 
Batterie Lithium Pylontech + 50 - 2.4 kWh
- A compact and trendy design that fits perfectly into your home environment.
- Supplies up to 5KW with a single module (2.4KWh)
- Modular design allows for easy capacity expansion.
- Compatible with most hybrid inverters.
- Safety Cert.TüV CE UL UN38.3
Registering on the Pylontech website allows you to extend the warranty period to 10 years.
* Battery to inverter connection cable sold separately.

Référence SKU : 69218
100% secure payments
Virement instantané
sans ajout de bénéficiaire

The new generation battery
The battery is charged during the day thanks to the production of the photovoltaic panels
It discharges during the day when production is lower than consumption and at night to limit energy discharges to the distribution network to a strict minimum.
---
The US 2000 series is an ideal solution for residential storage applications, with a standard 48V/50AH specification, up to 90% usable capacity and a 6000 cycle life guarantee.
---
Latest HESS battery model from Pylontech +
This model of Lithium battery already supplies more than 20,000 homes. Exceptional durability, quality energy. The design makes it easy to install and expand your system. This battery reflects all the real requirements of the end users and the highest technical capabilities of Pylontech.
You can find the 5 year warranty in the attached files. Register it on pylontech website allows you to extend the warranty period to 10 years.
---
Why a battery storage system for the home ?
Energy demand is high in the morning and evening.
But the solar production is more sufficient in the middle of the day.
Battery storage system balances supply and demand
---
Operating diagram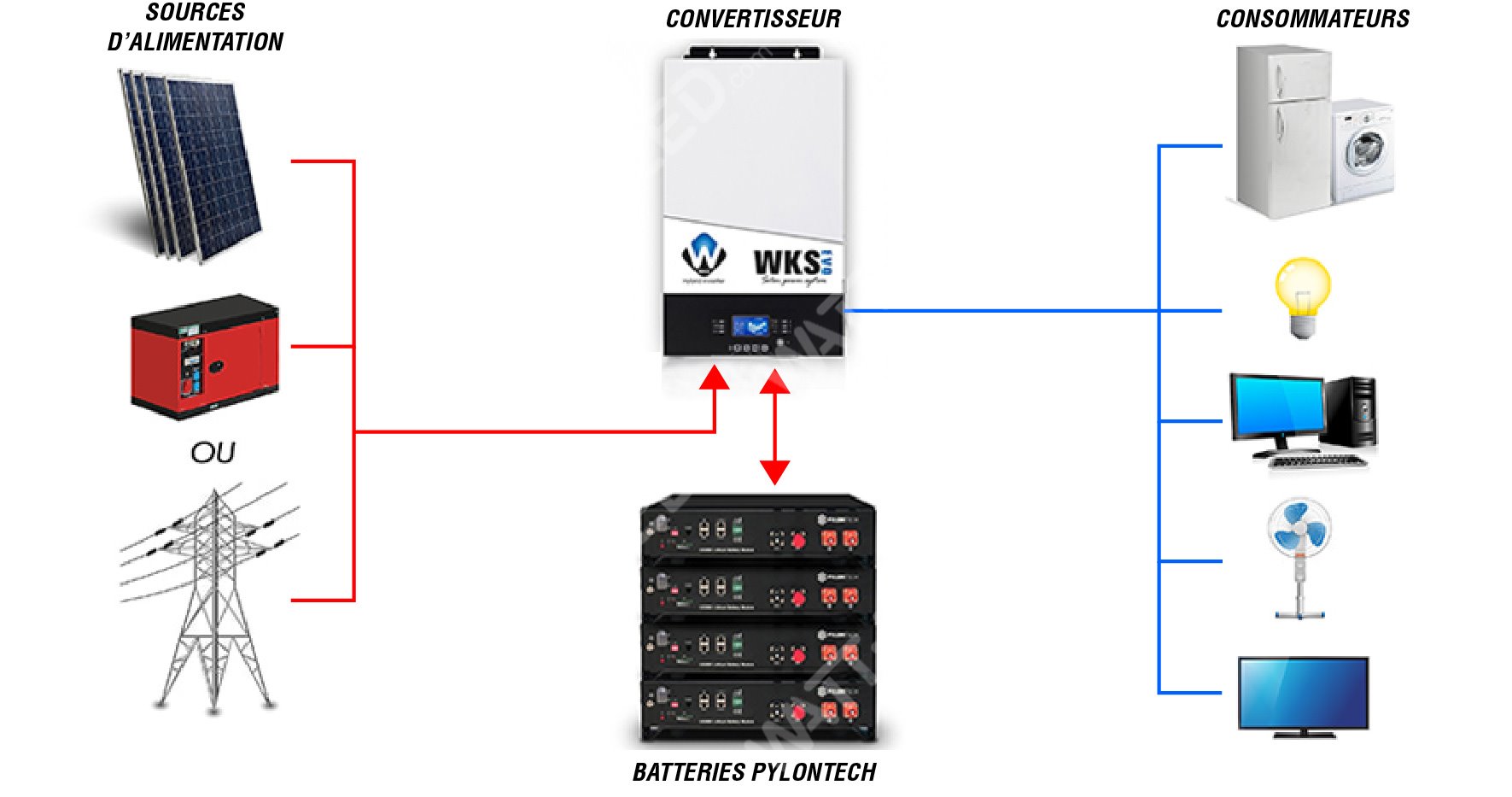 ---
Exceptional life span
Claimed for more than 6000 cycles considering a 90% depth of discharge
pylontech batteries will last for more than 10 years.
---
Delivers over 5kW per module
The nominal power per element is 2.5kW, but they can give 5kW to face high starting currents
---
Modular design
Pylontech batteries are very easy to upgrade
It is quite possible to start with one or two elements, and to increase later according to your needs
---
Compatible with most converters
Any charge controller or inverter with adjustable charging voltages is compatible with Pylontech batteries
---
Compact and easy to store
Pylontech batteries can be stacked very easily, and can also be placed horizontally
It is also possible to place them in any 19' rack
---
Safety Cert.TÜV, CE, UN38.3, TLC

---
Loss of capacity as a function of the number of discharges

Vertical: Health status
Horizontal: Number of cycles (flow capacity / nameplate)
Find the full ITP report by clicking here.
---
Lithium battery testing by an independent organization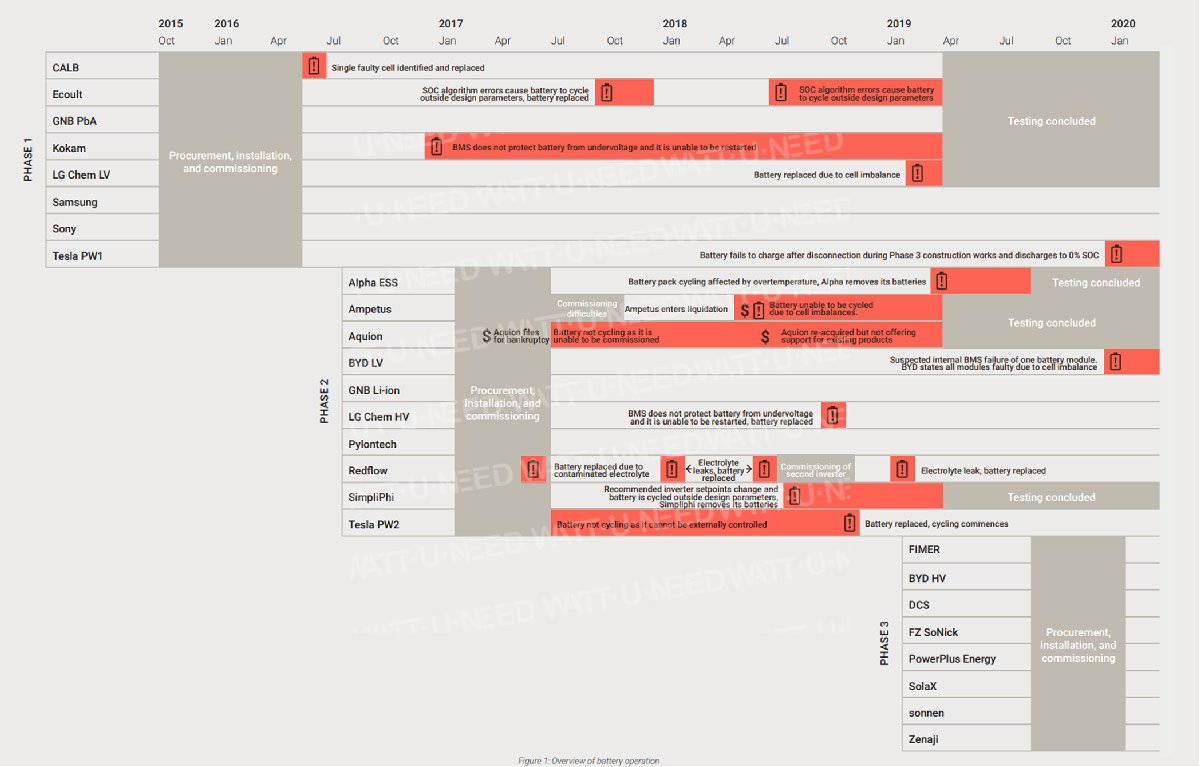 Find the link of the site by clicking here.
---
Specifications
PARAMETERS
PYLONTECH + 50
Nominal
Nominal voltage (V)
48
Physics
Rated capacity (Ah)
50
Electric
Dimensions (mm)
440*410*89
Other
Weight(Kg)
24
Discharge voltage(V)
45 ~ 54
Load voltage (V)
52.5 ~ 54
Maximum discharge power (kW)
5kW@1Min
Maximum load power (kW)
5kW@1Min
Communication
RS232, RS485, CAN
Temperature
0℃~50℃
-10℃~50℃
Shelf temperature
-20℃~60℃
Certification
TÜV / CE / UN38.3 / TLC
Lifetime
10+ Years (25℃/77℉)
Number of reloading cycles
>6000 (25℃, 90% DoD)
Comparative table of price per useful kWh over the life of the battery at a glance !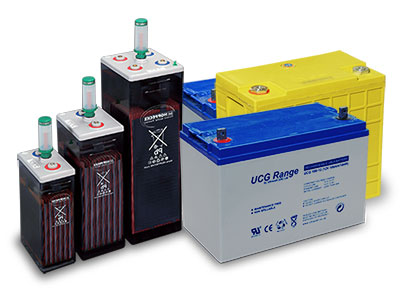 There are several storage technologies: Gel or AGM batteries, lithium batteries, OPzS and OPsV. It is not easy to make the right choice of the most appropriate technology for your needs. Each technology has its own characteristics (size, power, cost, number of cycles and lifetime ...). Thanks to this table, you can quickly compare the price per useful kWh over the lifetime of the batteries.
C10 = examination of a charge or discharge in 10 hours.
C24 = review of a charge or discharge in 24 hours.
Battery

Sales price including VAT

Voltage
Capacity C10 (discharge in 10h)
Capacity
C24 (discharge in 24h)
Capacity at 50% discharge C10
Capacity at 50% discharge C24
Lifetime at 50% discharge
Total Kwh over lifetime C10 50% discharge
Total Kwh over lifetime C24 50% discharge
Price per Kwh C10 including VAT
Price per Kwh C24 including VAT
Value
€
V
Ah
Ah
Ah
Ah
Cycle
Kwh
Kwh
€
€
AGM/GEL - Ultracell

Gel 55Ah

139,37€
12,00
52.25 Ah
61,00
26,13
30,50
1200,00
376,20
439,20
0,37
0,32

AGM 100Ah

212,42€

12,00

104.00 Ah

108,00

52,00

54,00

500,00

312,00

324,00

0,68
0,66

Gel 100Ah

199,00€

12,00

100.00 Ah

104,00

50,00

52,00

1200,00

720,00

748,80

0,28
0,27

Gel 150Ah

294,43€

12,00

150.00 Ah

156,00

75,00

78,00

1200,00

1080,00

1122,00

0,27
0,26

Gel 200Ah

397,00€

12,00

200.00 Ah

208,00

100,00

104,00

1200,00

1440,00

1496,00

0,28
0,27
OPzS 2V - Hoppecke

OPzS 2V 280

154,80€

2,00

213.00 Ah

244,80

106,50

122,40

3000,00

639,00

734,40

0,24
0,21

OPzS 2V520

221,70€

2,00

390,00 Ah

453,60

195,00

226,80

3000,00

1170,00

1360,80

0,19
0,16

OPzS 2V 910

305,10€

2,00

686.00 Ah

796,80

343,00

398,40

3000,00

2058,00

2390,40

0,15
0,13

OPzS 2V 1520

483,30€

2,00

1140.00 Ah

1324,00

570,00

662,00

3000,00

3420,00

3972,00

0,14
0,12

OPzS 2V 2540

786,00€

2,00

1881.3 Ah0

2163,00

940,65

1081,50

3000,00

5643,90

6489,00

0,14
0,12

OPzS 2V 4340

1235,60€

2,00

3220.00 Ah

3696,00

1610,00

1848,00

3000,00

9660,00

11088,00

0,13
0,11
OPzV 2V - Hoppecke

OPzV 2V 250

194,70€

2,00

204.10 Ah

243,00

102,05

121,50

3000,00

612,30

729,00

0,32
0,27

OPzV 2V 420

280,20€

2,00

391.40 Ah

427,80

195,70

213,90

3000,00

1174,20

1283,40

0,24
0,22

OPzV 2V 750

394,20€

2,00

682.00 Ah

762,10

341,00

381,05

3000,00

2046,00

2286,30

0,19
0,17

OPzV 2V 1700

785,70€

2,00

1544.60 Ah

1784,90

772,30

892,45

3000,00

4633,80

5354,70

0,17
0,15

OPzV 2V 3500

1461,40€

2,00

3089.20 Ah

3569,80

1544,60

1784,90

3000,00

9267,60

10709,40

0,16
0,14
OPzS 6V/12V - Hoppecke

OPzS 12V 70

295,30

12,00

50,00

60,00

25,00

30,00

2500,00

750,00

900,00

0,41
0,34

OPzS 12V 200

582,60

12,00

151,00

180,00

75,50

90,00

2500,00

2265,00

2700,00

0,26
0,22

OPzS 6V 400

543,70

6,00

302,00

357,00

151,00

178,50

2500,00

2265,00

2677,50

0,24
0,20
OPzV 6V/12V - Hoppecke

OPzV 12V 70

374,10

12,00

51,00

57,00

25,50

28,50

2500,00

765,00

855,00

0,49
0,44

OPzV 12V 180

730,80

12,00

154,00

175,00

77,00

87,50

2500,00

2310,00

2625,00

0,32
0,28

OPzV 6V 370

677,50

6,00

308,00

350,00

154,00

175,00

2500,00

2310,00

2625,00

0,29
0,26
Battery
Sales price including VAT
Voltage
Capacity C10
Capacity C24
Capacity at 80% discharge C10
Capacity at 80% discharge C24
Lifetime at 80% discharge
Kwh total C10 80% discharge
Kwh total C24 80% discharge
Price per Kwh C10 including VAT
Price per Kwh C24 including VAT
Value
€
V
Ah
Ah
Ah
Ah
Cycle
Kwh
Kwh
€
€
LITHIUM PylonTech
Lithium Pylontech 50
1160,00

48

50
50
40
40

6000,00

11520
11520
0,10
0,10
Lithium Pylontech 100
2317,00

48

100
100
80
80

6000,00

23040
23040
0,10
0,10
Lithium Pylontech 150
3428,00

48

150
150
120
120

6000,00

34560
34560
0,10
0,10
Lithium Pylontech 200
4561,00

48

200
200
160
160

6000,00

46080
46080
0,10
0,10
Lithium Pylontech 300
6762,00

48

300
300
240
240

6000,00

69120
69120
0,10
0,10
Lithium Pylontech 400
8895,00

48

400
400
320
320

6000,00

92160
92160
0,10
0,10
LITHIUM - 12V

Max Li 100Ah

698,00

12,00

100,00

100,00

80,00

80,00

3000,00

2880,00

2880,00

0,24
0,24

Lithium 12V 40

429,60

12,00

40,00

40,00

32,00

32,00

1000,00

384,00

384,00

1,12
1,12

Lithium 12V 90

970,00

12,00

90,00

90,00

72,00

72,00

1000,00

864,00

864,00

1,12
1,12
LITHIUM - LG Chem
Lithium LG 3,3Kwh
3070,21

51,8

63
63
50,40
50,40

6000,00

15664,32
15664,32
0,20
0,20
Lithium LG 6,5Kwh
4654,00

51,8

126
126
100,80
100,80

6000,00

31328,64
31328,64
0,15
0,15
Lithium LG 9,8Kwh
6140,30

51,8

189
189
151,2
151,2

6000,00

46992,96
46992,96
0,13
0,13
Lithium LG 13Kwh
9696,00

51,8

252
252
201,6
201,6

6000,00

62657,28
62657,28
0,15
0,15
1 other product in the same category:
 Download PDF